Electronics manufacturing companies are critical partners for Original Equipment Manufacturers (OEMs), who need expert assistance with assembly and supply chain management. The services of electronics manufacturers include the assembly of printed circuit boards (PCBA), the production of electronic modules, as well as the entire devices . Behind the success of many products introduced to the market is a professional and reliable supplier – an EMS company. Before we go further, let's stop for a second to cover the definition of electronics manufacturing services, and what does it refer to.
Electronics Manufacturing Services (EMS) - Definition

Electronics Manufacturing Services (EMS) applies to the entire industry as well as to a specific class of subcontractors or companies. It is often used interchangeably with the term Contract Manufacturing Services (CMS) or Contract Electronics Manufacturing (CEM). Electronics Manufacturing companies provide a very broad range of manufacturing and accompanying services, such as supply chain management, engineering and product management support, as well as after sales support. Designed especially for OEMs, the services of EMS providers allow manufacturers to focus on their core business, i.e., product research and development, as well as sales and marketing of their devices.

Electronic Manufacturing Services Industry Overview

The electronic manufacturing services market has been constantly growing for years. In addition to the production side, EMS companies also often offer support OEM's in logistics management, purchasing assistance, and managing the entire supply chain. The industry is expected to grow on average at the rate 7.5% per annum in the 2018-2024 period.

The electronics industry is very wide-spread and refers to a variety of industries, including governmental (eg. security and access control applications), industrial (eg. automation, IoT), consumer (smartphones, PCs, laptops etc.), healthcare (medical devices) or automotive. The growth of the EMS industry is mainly driven by the rising demand for automotive and consumer electronics, as well that is electronics becomes more present in each and every product that we face in daily lives. This rising need for electronics and innovative technological solutions, combined with growing customer requirements, the need to control costs and trend for automation, mean that OEMs increasingly need to choose to cooperate with partners offering industry knowledge and experience in the area of manufacturing.

To better understand the "jargon" used in the electronics manufacturing industry, please find the list of EMS acronyms typically used regularly used in the industry.

Electronic Manufacturing Industry - Tiers
The electronic manufacturing industry is commonly divided into tiers, which is mainly size-related. These tiers are predominantly based on revenue. The most important is that both the OEM and the EMS provider find a partner that is "best" fit for each other and match each other strategies.

On the end of the day, the reality is that electronics manufacturing companies representing Tier 3 or 4 can have exactly the same experience and competences as these from Tier 1 or 2. But it does not mean that both will provide the same quality customer service for different type of OEMs, that are also segmented into tiers. Threes and fours are simply smaller companies. But on the other hand, smaller companies frequently present more partnership approach and are more committed. It is extremely important, that a good fit is obtained and if it is – it is only when such two companies can build a beneficial partnership between each other and gain an abnormal commitment from an EMS provider.

Electronics Manufacturing Applications
From various industrial sectors up to the medical industry, more and more OEM's are increasingly searching for electronic manufacturing services. Gone are the days when OEMs decided to work with a contractor for purely operational and strictly assembly-only reasons. Today, it is part of a well-thought-out overall business strategy.

Indeed, manufacturers have discovered that with a collaborative approach, they can achieve significant benefits that improve their customer service and quality of their products, as well as enable them to react faster to dynamic market changes. Thus, the total costs are reduced and OEMs achieve a value they would have a hard time to build on their own.

A few critical applications and their specifics that are worth having a glance at, are:

Medical devices: OEMs from the healthcare industry look at adequate certifications (ISO 13485), as well as tight process control and above average quality standards at the electronic manufacturing provider.

Industrial automation devices: a broad segment of devices that relate to industry-related devices, mainly used for control and automation of various processes. EMS providers supporting industrial electronics are required to be able to adequately manage high-mix low-volume production and support a variety of processes for OEMs (printed circuit board assembly, conformal coating, final assembly, electro-mechanical integration, testing).

What is High-mix low-volume (HMLV) electronic manufacturing?
A high-mix low-volume production environment refers to the setting, where assembled devices vary in the size of the production batch, production processes applied and its final application. EMS providers that offer high-mix low-volume (HMLV) electronics manufacturing services, have the capability to adapt to the conditions, where product changeovers are common and thus the EMS needs to reconfigure the assembly lines in a matter of minutes. HMLV providers can much more easily adapt to changes in requirements and are capable to react to increased demand of the Customers.

High-mix low-volume electronics manufacturing providers require very precise controls and experienced indirect resources, since various challenges they experience bring additional threats of mistakes. That is why automation, lean approach (incl. SMED), yet strong software control and organized, smart factory is a key element for supporting high-mix low-volume electronics manufacturing projects.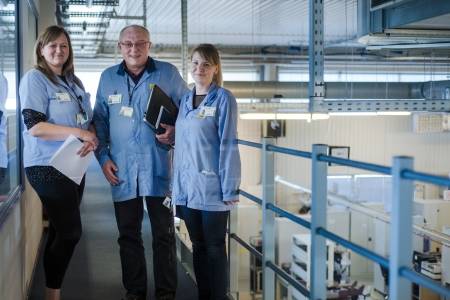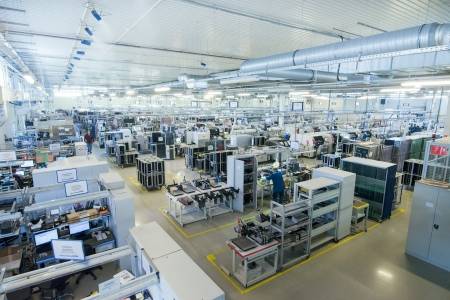 What are the capabilities of Electronics Manufacturing Services providers?

One of the main services offered by the electronics manufacturing services providers is the Printed Circuit Board Assembly (PCBA) capabilities. Currently, the technological advancements allows a very fast and high-quality assembly, due to precise components placement capabilities. A sophisticated SMT assembly line is priced even on the level of millions of dollars, thus it may be an extremely high investment for an OEM. However, if they leverage the fact that the electronics manufacturers produce for a variety of Customers, they can gain access to a modern, fast, and flexible production lines for assembling complex electronic boards at a reasonable price.

Furthermore, many EMS companies provide assembly processes for combining printed circuit board assembly, together with cable harnesses assembly, box build or electro-mechanical assemblies along with the testing procedures. This provides the complete assembly services, where the OEM gets a complete offer and does not have to at all be involved in the production process at all.

The scope of services that electronic manufacturing services companies provide will vary one from another, depending on their strategy and capabilities. In summary, you can expect the following assembly services:

• PCB assembly (inc. SMT Assembly, THT Assembly and Conformal Coating)
• Box Build (including Potting)
• Electromechanical assembly (including Cabinet Assembly)
• After-Sales Services (such as refurbishments, repairs, upgrades etc.)

Working with a partner that offers wide-scope electronics manufacturing services means that the OEM gets all required services under one roof and within a one process flow, keeping every aspect of the entire process under control.

The EMS providers also offer assistance with a variety of associated services, in particular:

Engineering Support
Electronics manufacturing service providers retain professional technicians and engineers experienced in product management, production processes and testing. Thanks to this, the EMS can provide Customer's product management support within the whole production life cycle. This includes BOM and revision management, component engineering, as well as ECO management and other associated capabilities, such as support with working with product certification entities, such as ETL, TUV or UL. Furthermore, the broad knowledge of the production process and material structure, allows a good electronics manufacturer to offer design for manufacturability (DfM) or design for test (DfT) services.

New Product Introduction
One of the most critical processes in electronic manufacturing is the New Product Introduction process, also known as NPI. A qualified EMS provider will conduct an in-depth evaluation of the new product before its implementation to the serial production. This will include a very complex study of the potential risks during the production (P-FMEA evaluation), all programs preparation, as well as trial production and material verification (eg. RLCD measurements). Such procedure also takes into account the design, build and preparation of all necessary product-specific tooling (eg. stencils, soldering frames) or jigs (poka-yoke).


Supply Chain Management and Procurement
Guided by the product specification and bill of materials (BOMs), the electronics manufacturing supplier conducts complete procurement and sourcing operations, where most importantly he finances the material on behalf of the OEM resulting in a positive cash flow for the Customer.

Professional electronic manufacturing services companies strive to optimize service costs through the most optimal supply chain management, which in most cases represent the circa 80% of the product value. As a result, good EMS partners place an enormous role in supporting OEMs in achieving their business goals.

Testing
An electronics manufacturing supplier, may perform functional tests with the use of equipment provided directly by the Customer, the EMS company can provide functional and ICT test development services, as well as related engineering support. Performing a functional test is a key process and ensures that only fully operational devices end up at the final customer.
Top 5 Benefits of working with an Electronics Manufacturing Services provider

There are at least four major benefits that be should considered, when working with an electronic manufacturing services provider. Below please find the TOP 5 benefits of working with an EMS provider.

Reduced Investment in Technology, Equipment and Property
Cooperation with an EMS provider for OEM manufacturers, who do not possess their own production lines, adequately equipped premises, as well as a qualified production and engineering human resources, is sometimes the only opportunity to introduce a new product to the market. In fact, electronics manufacturing service providers tend to hugely invest huge investments in buildings, technologies, and workforce, but they can spread these costs upon a variety of customers – meaning that their fixed costs are spread. For OEMs that cannot expect regular demand and struggle with volatility in supply, cooperation with an EMS provider is the only logical and economically reasonable decision. Outsourcing allows you to save money, time, and turn fixed (typically very high) costs into variable costs – the less you order, the less you pay.

Skilled workforce
Changes in technological advancement, operational excellence and keeping up with the dynamics changes of Customer needs, requires the necessity of highly specialized workforce. This does not only need a good employee selection and ongoing training, but strong engineering expertise. That translates into a layer of substantial fixed costs that must be maintained to conduct assembly operations.

When working with a qualified electronic manufacturing provider, the OEM is freed from focusing on production and in-direct manufacturing competences (as engineering, maintenance or alike) and can strictly focus on development of the product and its sales/marketing operations. This does not only frees the OEM from reduced fixed costs, headcounts, personal and recruitment expenses, but also minimises "the headache" related to managing the production environment on a daily basis.

Supply Chain Expertise & Improved Inventory Management
Reliable electronic manufacturing services providers possess strong expertise in managing the procurement processes and work with approved vendors worldwide. They also possess strong planning expertise, followed by complex and developed worldwide ERP systems, together with MES (Manufacturing Execution Systems) platforms that support strict execution of the assembly on the production floor. The two remain key elements of managing a cost-efficient production process, and require an expertise that is built throughout decades of best practices and experience.

Due to such developed tools and associated capabilities, good electronics manufacturing providers are able to respond to the needs of the original electronics manufacturer in a flexible and reliable manner – not only on paper, but in a real production environment. When we add the know - how in selection of approved vendors, sourcing individual items (including the audit process), and efficient execution of the procurement process – we get the total picture of a well-managed supply chain management.

Working with an electronics manufacturing provider (EMS), allows the OEM not to invest in complex IT systems, as well as no need to build a supply chain management expertise that required qualified staff and long-term expertise. Professional EMS providers not only manage the supply chain but also help in building effective planning solutions, while managing them. Based on Customer's specification and business agreements, they work with material suppliers to keep the client's excess material as low as possible and thus enable a stable course of the entire production.

Improved Productivity & Cost Structure
A delay in delivery can lead to business and reputation loss. Working with an well-organized EMS provider minimizes the risk that orders will not be delivered on time and, therefore, that the delivery of the final product will be delayed. Clearly, this must ensure good cooperation of both parties and take into account the lead-times for the material.

Cooperation with electronic manufacturing services companies, also provides the possibilities to leverage the purchasing power of the EMS, and utilize their position on the market, when negotiating material prices, as well as good and efficient utilization of the production equipment. Due to the economies of scale, it is possible to reduce the unit cost of the OEM's products and gain further financial benefits, alongside efficiently-managed projects.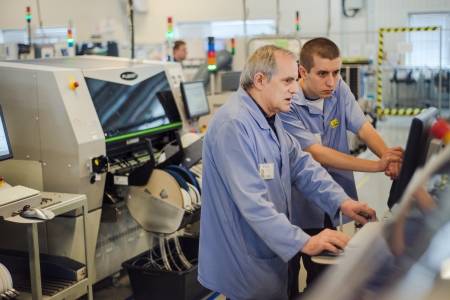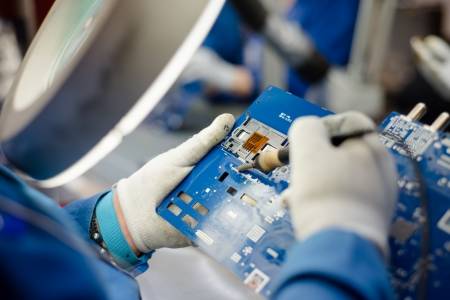 Poland: an ultimate place for electronics manufacturing
As a result of the continuous growth of the electronics market and the use of electronic devices in various industries, OEMs more and more often decide to cooperate with polish electronics manufacturing providers. In the recent years, Poland became one of the key countries in Europe in this market segment. Polish companies not only provide a cost-efficient, due to lower labour costs, but can accommodate highly complex projects that require vast engineering capabilities. Based on the recent statistics, the average wage in Poland is still half lower than the EU average. This is an enormous chance for many OEM's to lower their production costs, especially when it relates to an labour-intensive project.

If you are interested in cooperating with a Polish EMS company, we advise you to read this article.

Electronics manufacturing challenges Impact of COVID-19 on EMS in 2020 and 2021

The novel coronavirus (Covid-19) pandemic is also not indifferent to the EMS market. Disruptions in the supply chain and lack of local control over the supplier mean that companies often began to choose local EMS suppliers, resigning from cooperation with companies from the Far East.

This is both a great opportunity and a threat to the entire electronics contract manufacturing sector. EMS producers should focus on automation and digitization of the production process. At the same time, it is essential to introduce efficient material resource planning (MRP) investments to be able to fully control inventory and sourcing and manage the entire supply chain. Thanks to this, it will be possible to minimize the risk of component unavailability or delays in deliveries.

The EMS market is constantly growing. Until recently, mainly foreign companies were interested in outsourcing contract production to external partners. Polish EMS manufacturers have also been playing an increasingly important role on the market for many years, being at the same time a beneficial alternative for eastern subcontractors.

When considering working with an EMS company, OEMs should be aware that a contractor can do what they can, but can do it better and more consistently because of their knowledge, experience, and technology. Moreover, cost-wise it's also a profitable decision, because the contractor manages all of the financial aspects of the production process. Collaboration with a company providing the EMS services can, therefore, be a source of business benefits.