Today, China and other far-east countries are not your only option when it comes to contract electronics manufacturing. In fact, locating your production in Europe has many significant advantages, and, which is crucial, does not necessarily mean much higher costs. Did you know Poland has been playing for years the role of a beneficial alternative for far east subcontractors now? Due to Poland's strategic location (in the very center of Europe), well-qualified engineering staff, cutting-edge technology, lower prices and labor costs, and high-quality education, this country is an interesting alternative for companies from the EU to locate their manufacturing.

Electronics production has always been Poland's national specialty. In fact, the history of electronic production in Poland spans back to 1916, when the Polish Association of Electrical Enterprises (associating 136 factories) was founded . The electronics industry in Poland was initiated by the creation of several enterprises in the Russian and Austrian partitions at the end of the 19th century. After 1945, Poland, as a Soviet satellite inextricably linked to the Comecon Pact, developed its industry in accordance with central planning in the directions imposed by political authorities.

Today, more and more Polish companies with specialized production lines offer contract electronics manufacturing. Polish care for quality and reliability in carrying out orders is broadly appreciated. Poland's location, which is the link between Asia and Europe, is also of considerable importance.

Now, the question arises: Why should European companies consider Poland as a good place to locate their electronics manufacturing? The answer has at least five crucial points.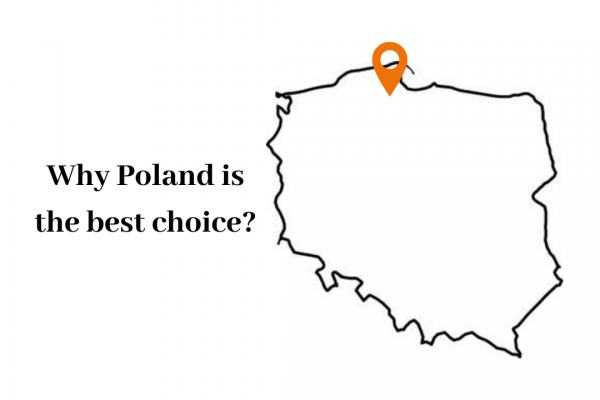 Lower labor costs and hardworking workforce
Polish companies are able to provide high-quality production for much lower costs, compared to Western European companies. Many western companies are looking for opportunities to reduce costs, which creates a good reason to go outside the domestic market. One of the possibilities to obtain significant savings is to order contract electronics manufacturing in Poland.

Wages in Poland are lower than in Western European countries, which has a positive impact on the costs of business operations and competitiveness. The latest Eurostat data shows that the average cost of one hour of work in Poland (in companies with at least 10 employees) in 2019 was EUR 10.7. In countries like Germany, France, the Netherlands, or Sweden, the cost of an employee's working hour is more than three times higher. The average in the European Union is EUR 27.7. For the most developed countries, it's EUR 31.4!

It is worth emphasizing that the labor cost indicated by Eurostat includes all expenses incurred by the employer in connection with employment, e.g., recruitment costs or work clothes.

Motivated and skilled employees
The high competitiveness of Polish companies in contract electronics manufacturing is not only based on lower operating costs. High quality is an essential requirement placed on manufacturing partners. The outsourcing company is also expected to provide knowledge and help to reduce production costs effectively. Contract electronics manufacturing in Poland meets the expectations of even the most demanding clients.

One of the critical impulses that contributed to the increase in quality and experience in Polish companies was the inflow of foreign investments. Thanks to the location of many international companies in Poland, along with the influx of import of western technology and know-how, this country has become very experienced in various operations.

Motivation to work among Polish employees is another factor resulting in the high quality of contract electronics manufacturing. Poles have an excellent approach to work and ethics and high awareness of business reliability that does not differ from German or Swiss standards. Top organization of work, order, focus on details, and can-do attitude are the main elements that characterize Polish employees.

The motivation for Polish employees to work is particularly evident in the number of hours spent at work. According to OECD, Poles work… well, a lot (around 1815 hours). We are only surpassed by Russians (1980 hours), Greeks (1956 hours), and Icelanders (1858 hours). On the other side of the table, we have Germans who spend 1356 hours at work on average. Next: Danes (1408 hours), Norwegians (1419 hours), Dutch (1433 hours), and Swedes (1470 hours). Despite this–according to the report "Workforce View in Europe 2019" made by ADP–Poles are reluctant towards the idea of reducing working week by one day.

Technically educated workforce
There are over 18 technical universities and academic institutions in Poland. There are also lots of various technical schools. As an example, let's take the city of Gdańsk, where there are numerous medium-level technical schools and two technical universities. Polish technical universities are one of the best in the world. Polish Polytechnics (engineering schools) are valued for innovation and practical knowledge acquired during five years of study.

According to another OECD report, 50% of Poles have higher (academic) education. A whopping 63% of Polish graduates have a master's degree (we are at the forefront of the world here) . In 2017, for every 10,000 inhabitants of Poland, there were 11 PhD candidates, which is also an outstanding result.

Cultural differences and communication
Barriers and intercultural differences have a significant impact on the relationship between business partners. Companies that outsource contract electronics manufacturing to companies outside Europe have to make the utmost effort and properly prepare for contact with a foreign culture. Finding a "common language" in business relations between two cultures is a challenging task.

People from different countries, cultures, and environments do not have common experiences, which may hinder cooperation. That is why one of the basic strengths of Polish companies is a business culture that's consistent with other European countries. The same values, mode of operation, and transparent communication guarantee the easy achievement of a win-win effect.

Language is an inseparable element of business communication. It is very important that both parties are fluent in a language understandable for each person involved in the conversation. In Poland, knowledge of English and German is at a very high level. According to the "English Proficiency Index", we came 11th out of 72 countries analyzed . The ability to communicate in English is common among Polish engineers and customer service consultants.

The legal system, safety & logistics
Finally, it is worth mentioning the other vital aspects resulting from the convenient location of Poland. This country close to the Scandinavian markets and Western European countries. And, due to the lack of customs and road borders in the EU, Polish companies can ensure speedy order processing and lower transport costs compared to Asian enterprises.

Poland's membership in the European Union also determines legal system's compliance with European Union legislation. The country's advantage is also the flexibility of legal regulations, adjusted to the market requirements. Poland is also subject to the jurisdiction of EU judicial authorities, which means that entrepreneurs are able to outsource contract assembly to companies in Poland with confidence. In addition, the country's economic performance, particularly the low inflation rate and economic growth, is attracting increasing interest from foreign investors.